CURRENT WEIGHT

:
(7/4/2010)
*~*~*~*~*~*~*~*~*~*~*~*~*~*~*~*~*
My Ultimate Weight Goal:
My Mini-Weight Goal with my choice of reward:
One full month of staying on track (exercise 4x week) (

Reward: New iPod arm band

)
195

(Reward: Body Wrap!)

185

(Reward: New workout outfit!)

180 (

Reward: Body Wrap!)

175

(Reward: New workout DVD/equipment)

165

(Reward: New workout outfit!)
Some things to keep my butt on track!
A few things I want to be able to do!
Where a sexy one-peice swim suit

(instead of the swim suit with a skirt that I currently wear to cover my big hips and even bigger butt)

on my 10th Anniversary Trip with my hubby to Jamaica in June 2010.
Be comfortable walking the beaches of Jamaica (June 2011) in my swim suit.
Run a Marathon!

(Before I turn 35!)
Walk the stairs and not be out of breathe.

Currently, by the time I get to the top of one flight of stairs in my house my heart is racing and I have to catch my breathe. (I have a three story house! )
Wear size 14, then size 12, then size 10! AND SO ON.... (Just look at the possibilities!)
Have a flat stomach again! (Maybe even a six pack like in high school!)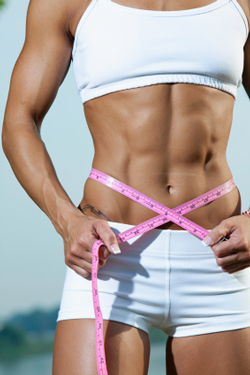 Wear high boots! (Right now my calves are too thick.)
Wear sexy high heels! (Right now, I'd probably just break them because of my weight, plus they kill my feet after just 5 minutes!!)
Feel good about myself!

Right now I can't sat that I

hate

myself, but I can't say that I am too pleased with myself either. I look in the mirror and see the muffin top... . I try on that pair of jeans that I used to fit in, still can't zip them up.... I go shopping for something new, to find that I have to buy a bigger size... I know I'll never be runway ready, but to look in the mirror and see the curves (not the flab) would be so
WONDERFUL!!!
So...
My plan to get there:
Exercise 4-5x a week.
Do Something! (Walk, run, clean the garage, mow the lawn, chase the kids in a game of tag, workout to a DVD, have some fun with my hubby (oh-la-la). Just get my body moving.)
Eat healthier.
Keep track of my point through the Weight Watchers program.
Eat more fresh fruits and vegetables.
Make healthier choices for the foods I love. (Like enchiladas and chimichangas!)
Be mindful of my portions.
Not use food as a 'reward' or punishment.
Limit eating out.
Find an accountability partner.
I like food!

There is no lie about it. I will find someone I can talk to about my eating habits, a friend I can check in with and be accountable to.
I will ask myself if I am eating because I am hungry, bored, stressed, worried, etc.

I am an emotional eater. I will eat when I am hungry, not just because I can.
Are you trying to lose weight?
Get fit? Reshape your body?
Interested in becoming online accountability partners?
(ladyverlina AT yahoo DOT com)
I'd love to keep tabs with you! We'll help each other!